Welcome to Worthington Adventist Academy


We believe that God has given parents the responsibility to "train up a child in the way he should go." It is our intent that WAA be an extension of the student's home, not a replacement for it. We see our ministry as using the gifts for teaching that God has given us. We use our gifts to help young people pursue a life of self-discipline, character growth, personal responsibility, and good citizenship based upon the principles of God's Word.
Worthington Adventist Academy is a non-profit, private school chartered by the State of Ohio for grades K-8. WAA is supervised by the Department of Education for the Ohio Conference of Seventh-day Adventists and accredited through the North American Division of Seventh-day Adventists and the National Council of Private Schools. The school was founded by and continues to be sponsored by the Worthington Seventh-day Adventist Church. Christian principles have first place in determining the school's policies and standards.
K -8 ENROLLMENT NOW OPEN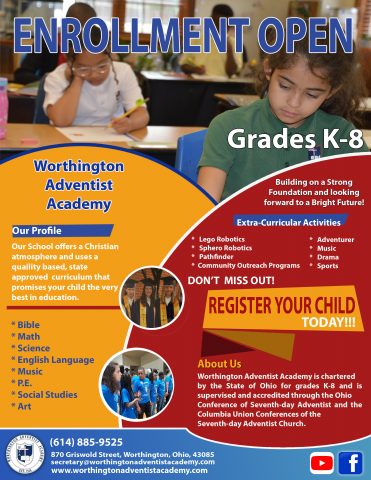 COMING SOON - December 12, 2023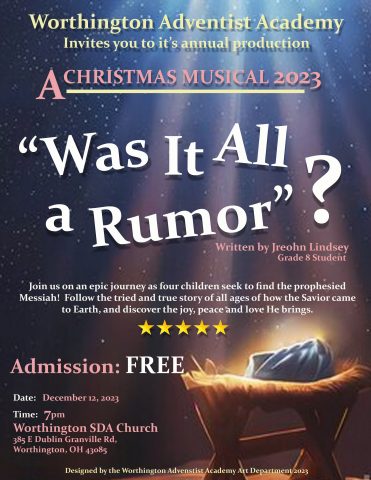 UPCOMING EVENTS
If you are interested in receiving more information about our school, simply click here and fill out the form.
 
Call 614-885-9525 to request registration materials and check availability for your child's grade level. We are here to answer any questions you may have. Thank you for your interest in Worthington Adventist Academy!
WAA Christmas Musical       December 12, 2023
Tittle:  Was It All A Rumor?
Written by Jreohn Lindsey (Grade 8 Student)
Please contact us by phone at (614) 885-9525 or by email at secretary@worthingtonadventistacademy.com to schedule an appointment to tour our school and enroll your child.
 
 If you are currently experiencing any of the symptoms associated with the COVID-19 or have pending COVID-19 test results, we ask that you please remain home.
ENROLL YOUR CHILD IN KINDERGARTEN TODAY
"Was It All a Rumor"?
WAA Annual Christmas Musical